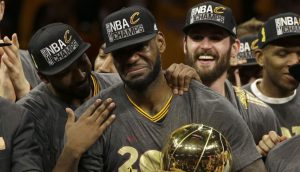 During the drama, final change of the leading team changed to Golden State Warriors 20 times.
The Cleveland Cavaliers team on Sunday evening for the first time became the champion of the National Basketball Association (NBA), having won a victory over Golden State Warriors in a final game with the score 93:89.
The outcome of a game has special value for the city of Cleveland. Within the last 52 years' city teams in the most different types of sport approached a champion title, but at the last minute the victory escaped them.
The match also became an important point in a pit of a star of the Cleveland team of Lebron James which grew in the next Akron, the State of Ohio. He was taken in team when came to league in 2003, but then passed the Miami Heat team which with its participation became the champion twice. In the previous season, it returned to Cleveland Cavaliers again.
"I'm home. For the sake, I came back", – James who was called later the most valuable player of the final told. According to him, the victory has for it special value. "Cleveland, it for you!" – he told.
One more unique moment for the Cleveland team was what for the first time in the history of NBA it managed to recoup and win against after it conceded in a final series with the score 1-3.
In a final series, which, generally consisted of matches with obvious overweight of one of teams, the last, the seventh a game became a drama competition in which change of the leader happened 20 times.
James became the leading player of Cleveland Cavaliers, having scored 27 points, 11 asssits and 11 rebounds. When before the end of a game there were less than two minutes, it managed to block a throw of the opponent and to keep the neutral account in a game 89:89. Less than in a minute, Kyrie Irving who finished a game with 26 points realized a three-point throw which led the Cleveland team to the victory.
For their opponents, Golden State Warriors, the season was in own way unique too. The team set a record in 73 victories in regular matches, having lost only in 9 games. At a playoff stage, they allowed nine defeats, and the last did not allow them to win the second time in a row a champion title.
Draymond Green who in a Sunday game gathered 32 points became the leading team player. He also made 15 selections.
The most valuable player of a regular season of Stephen Carry in a final game was not especially noticeable. It scored only 17 points at an average value in a season – 30 points.