Winner: Danny Ainge's Plan
For half year hotheads repeated to us that Danny Ainge already everything, not cake, lost a grasp, grew old, is afraid of own shadow and cannot any more. The general manager of Boston bewildered apprehended attempts of arm-twisting from Chicago, Indiana and New York and continued to wait, ignoring the distributed cries from twitter: the situation demanded long-term planning and anticipation on several steps forward. "Celtics" continued to be reconstructed, continued to raise both team, and the trainer, accumulated assets and were not going to hurry anywhere.
Haste, as we know, is necessary only when catching fleas. Ainge already had heart attack and knows that to worry is superfluous. An optimum opportunity will turn up sooner or later, and it is more important not to fuss, and to wait for it with the best package of assets.
According to insiders, Cleveland especially did not look at the West (usually clubs try to get rid stars far away), and at once contacted Boston. Only "Celtics" could guarantee more or less full satisfaction after parting with the young superstar.
If to consider all circumstances (all stars of league trade the last year for gifts of kitchen gardens situated near Moscow; all knew that Irving demanded exchange; nobody could offer Cavs anything similar and so on), "Celtics" gave seemingly a bit too much.
But only at first sight.
Actually, Ainge did not give practically anything critical.
Thomas leveled the advantages aiming at the maximum contract. Next summer it becomes unlimited the free agent and counts on 200 million which Boston precisely did not intend to give.
At Crowder one of the best contracts in NBA based on the ratio of quality and the price. But protective abilities of the forward nevertheless overestimate, and "Celtics" have enough applicants for the place of the third number including their new Hayward franchise including their young players. Not the first season Crowder was allocated in Boston not so much with a game, how many constant presences at all potential trades – it was perceived mainly as an asset. And here time came to leave it.
Due to the total collapse of the Eastern Conference the peak of Brooklyn can be not so high, predictably. And Boston still had in a cushion peak of Lakers.
Zizic still should find himself in NBA.
Instead Boston solves three problems one course at once.
First, of course, receives the 25-year-old superstar with a mad potential. Irving also did not approach the peak of career, and was already ahead of all by the head on a game in private, collected a collection of super productive matches in the final and wrote down into the account a key throw in the seventh match.
Secondly, saves itself from the headache connected with future contract of Thomas. Irving's agreement is intended still at least for two seasons. And for this term while Boston continues to pass from reorganization to the status of the full-fledged applicant for a title, with a position playing the leader and future king in the fourth everything is more or less clear.
Well also weakens the direct competitor. Irving is the ideal partner for James, the one who was always perceived as his successor and the person who has to help Lebron to prolong career. Their peak – N-roll the sheaf was the most dangerous attacking interaction in last season. The combination of uncontrollable streetball from one and classics of a powerful point forward from the second presented the best attack in the history of the playoffs of NBA. Well and nobody in league scores points in "isolation" with such efficiency as Irving – and it is that only skill which is not enough for Lebron's teams.
From the point of view of the price this trade for Boston can be perceived differently.
From the point of view of "Ainge's Master Plan" there can be in general no other treatments here: "Celtics" took one more step to return to the status of the full-fledged applicant. Let not in the next season, but in a year precisely.
And it is most improbable "reorganization" which we only saw.
Loser: Lebron James
Yes, it is possible to recognize that James often compensated not the most successful ideas by the game. For example, he (well and its headquarters) thought up all invention with Wiggins's exchange for Kevin Lava as powerful forward necessary for it with uncommon ability to collect selections and transfers from an arsenal of a real quarterback. Love mostly appeared in Cavs in role "a fifth wheel" and "to eat it is given", but as a result the phenomenal basketball intelligence of Lebron drove even it into a framework of successfully working system. Except for the fact that against "Golden State" of Love looked superfluous, in general the idea turned out correct: he is not Chris Bosch, but all functions which James wants to see from it, against ordinary (not space) teams it gives out.
The same and with the others. It is possible to carp at contracts of other players Cavs, but James's game eventually makes all of them representatives of team which acts in the final. And it already removes a half of questions.
And here even if to consider this stretch (extra basketball decisions without James's factor do not look such clever), all the same political manipulations of Lebron is a part of his image and its career.
James not only presented to Cleveland a historical victory, became the champion of NBA three times, ran about for one of the best teams of the 21st century and so on.
James artificially constructed a dynasty in Miami. James chose to himself the command after aging of Miami with a view to prolongation of career, on unloading himself in favor of young stars. James made out the partner, ideal for himself in Irving (that was not the most obvious in the 2014th). And James absolutely not incidentally holds a post of the vice-president of labor union – always it seemed that in the following "Book of basketball" Simmons will put it above Jordan, resting on the fact that in the history of NBA there was no other superstar with so ideal relationship with teammates. James – both the psychologist, and the politician, and the manipulator, and the manager: his career is not only points, selections, transfers, a victory and an aping, his career is both staff recruitment, and coaching, and creation of team, and still a lot of other decisions which have nothing in common with a performance on the platform.
James could lose in the finals, but here he always won.
And history with Irving – the first and very significant mark.
Of course, he will not mention idea of Lebron as about the manager, the psychologist and the ideal teammate. Well who could predict what there will be a little fool who will kick up in such situation? Automatic exits in final series, a champion title in 24 years, an ideal role with the quantity of throws exceeding James's throws, comparisons with Iverson not in favor of Iverson, a rank of main "clutcher" of the league. It is necessary to trust in flat Earth that to refuse all this.
But all the same the whole summer seemed that James will be able to settle this situation – Kyrie will convince to remain, will go to some smart compromises and will win another administrative victory.
Instead he received a situation in style of "Game of Thrones". It was not just betrayed – the traitor got away straight to mother of dragons and already hurries back at the head of the first team of the East.
Still yesterday Irving was for him a successor, the pupil, the invaluable assistant, pledge of a beautiful long old age. Tomorrow Irving will already try to finish this old age as soon as possible.
In calculations, the unforeseen mistake crept in. Perhaps, critical for Lebron's career.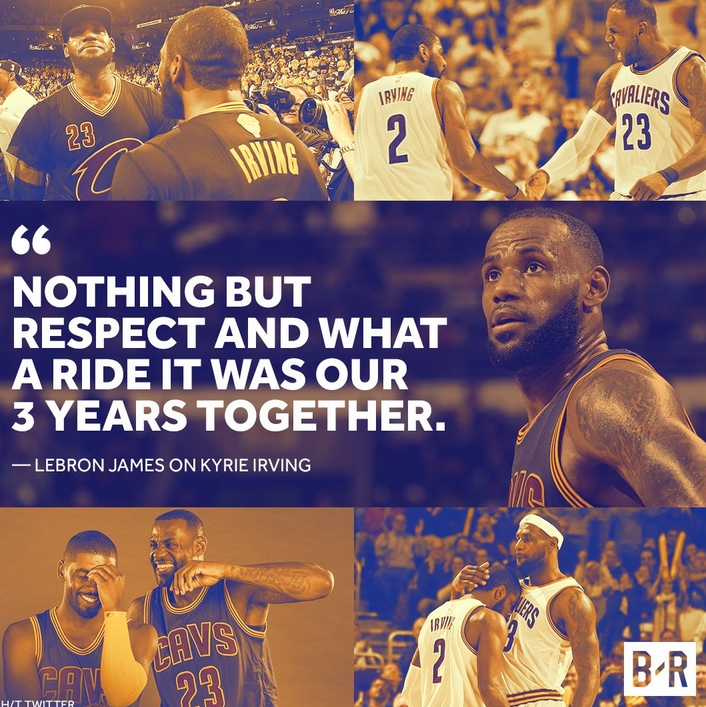 Winner: Cleveland
After publication of the requirement of Irving Cleveland put itself so efficient at once is weakened as though some other team acted as a laughing-stock at the key moments of off-season, saved on the general manager, caused anger of the best player of league and behaved so foolishly as far as it in general is possible. When the steering wheel ceased to twitch and fell into hands of Cobi Altman, the vessel ceased to be jerked at once – Cavs important demanded a star, the young player and peak began to be played.
Phoenix refused to give Josh Jackson.
"Knicks" refused to give Kristaps Porzingis.
Anybody more, it seems, had nothing.
Altman continued to wait.
At the same time began to appear a story that the conflict between Irving and Lebron is inflated and everything is formed that they met and James did not begin to beat anybody contrary to general expectations that Cavs quite to themselves hope to see Irving by the beginning of the training camp … Generally, panic managed to be extinguished.
As a result, Cavs received the optimum offer, considering those conditions in which they were forced to work.
The trade mainly solves for them a long-term outlook. The peak of Brooklyn and Zizic is already work on the future without James.
Short-term benefits are too: Cavs saved nearly 30 million taxes on luxury, Thomas not fully, but to some extent has to replace individual feats of Irving (minus – adaptation as auxiliary playing and inability to be protected, plus – desire to be protected and almost so impressive attacking arsenal), Crowder will create depth on important (especially for fight against "Golden State") positions of a swingmen. And all this is necessary to spend the next year of career of James in Cleveland at approximately same level of the finalist from the East.
Will already depend on James's decision and on wishes of his friends on banana further.
The main thing that purely theoretically Cleveland can be reconstructed completely in any party next summer: and to drop bad contracts to gather a new team of adherents of Lebron, and to go to reorganization with quite good assets and young players.
Winner: Kyrie Irving
Irving the requirement of exchange turned himself into the most discussed player of league – just because assessment of his opportunities is so subjective as far as it in general is possible. It is even more subjective, than in a case with James Harden and therefore it generates infinite disputes on the present (given in vacuum) the level of playing.
On the one hand, Irving is the most effective scorer of NBA, the maestro the "Isolation", lineal heir of Kobe in improbable hits and super productive uncontrollable performances, the companion with nerves of steel and readiness to make a key throw, esthetically the coolest player of league.
With another, Irving did not prove the autonomy from James: he badly makes advances partners and, perhaps, is not able to do it; is lazy in protection and it is indicative trains himself for matches on national television; it is traumatic; it is not perceived as the leader; and – the most important (though absolutely ridiculous) the argument – did not prove that it can provide result when Lebron was not. Well and, probably, obviously overestimates own opportunities.
As well as in a case with Harden, apparently, that the second part of an image of Irving is a little decided, but exchange in Boston is in general the best that could occur with playing (apart from the fact that it would take all words back and bowed to Lebron in legs).
Exchange in Boston will help Irving in respect of basketball. There is Brad Stephens who managed to make Thomas effective – Cavs were not ready to exempt Irving from defensive work whereas in "Celtics" this aprioristic condition of employment of the first number. There is a system of attack constructed on the movement of a ball and using Hayward and Horford's skills as assistants – Kyrie it will not be necessary to become "organizer" of attack and the full-fledged playmaker. There is already proved applicant's potential: the majority of options of exchange of Irving assumed that it is included into team like "Knicks" or Phoenix with the prospect of transformation in angry Kobe the middle of zero; now he will be able to struggle with Lebron for the East crown.
Exchange in Boston will help Irving in respect of work on a brand that appeared as the main reason to demand exchange. "Silent" stars of Boston – to it not competitors for attention. In the large market of Kyrie has an opportunity to reveal as the main star (even if not in fact, and on brightness) the finalist of the East. On attention level, it cannot be compared neither to Cleveland, nor to other remote places where he was going to move. On basketball level – with "Knicks", presence at whom would confirm all worst fears and added couple more of unknown diseases.
Exchange in Boston has to help Irving just in respect of personal growth. To not Boston players – not Boston in respect of psychology – there were always two things: or "Celtics" rejected them as a foreign matter, or "Celtics" arranged them under themselves, infecting with values of team basketball, humility, understanding of magic of a leprechaun and responsibility to fans. Anyway, it is one of the best places for this purpose who wants to turn from the eccentrical streetball player who put a fat blot in the biography of one of the best players in the history into something dear. (And not only fans of "Celtics" who will prove already tomorrow that to them there arrived new, more advanced Kobe Bryant).
Winner: all of us
Now all officially. This is the best off-season in the history of NBA.